The Great American Beer Festival held its awards ceremony today.  DelMarVa-DC was well represented.  Congratulations to our local breweries-done-good! 
For those of you who don't know GABF, it is the pre-eminent craft beer event in the U. S. every year.  It's an intense week of classes, meet 'n' greets, tasting sessions, master lessons for advanced home brewers, and a tasting floor that takes up the entire Denver Convention Center (over 2700 beers represented! Oh my aching liver.).  This is an event by brewers for brewers, showcasing the best of the best, people who are passionate about what they do.  As Charlie Papazian said during the awards ceremony, "There is no one here that is working in craft beer because they HAVE to."
How sick was it that they live-streamed the awards ceremony – and lots of us watched?!  Twitter was on fire with #GABF tags there for a while.
A medal here means so much!  Industry professionals from around the world are asked to judge the beers brought there, and the judges are tasked with identifying the three beers that best represent each beer-style category as described and adopted by the festival.  They don't always award a medal; this year there was no Gold given for the robust porter category.
If you can brew to type at this level, it says loads about your precision and control.  That's what these medals really indicate – it's pure skill.   There were 84 categories,  with many subcategories.  Just think what the judges had to know to tackle this!  Remember: a possible 254 medals, over 2000 beers!
So let me say, Congratulations and Well Done to our local winners.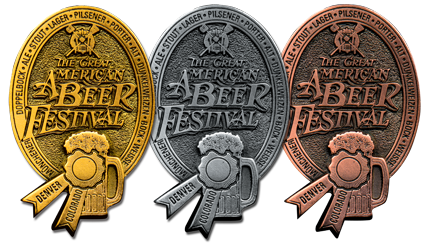 DISTRICT OF COLUMBIA (that's right, DC!!)
Silver for Your Favorite Foreign Movie, a Belgian- and French-style ale
MARYLAND
Silver medal for X-1 chocolate beer
Gold medal for Balt Altbier, a German-style altbier
DELAWARE
Iron Hill Brewery & Restaurant – Wilmington:                       
Bronze medal for Black IPA, an American-style black ale
Silver medal for Oyster Stout, a classic Irish-style dry stout
Bronze medal for Dominion Oktoberfest, a German-style marzen 
VIRGINIA
Devils's Backbone Brewing Co. Basecamp:                                        
Gold for Berliner Metro Weiss, a German-style sour ale
Silver for Old Virginia Dark, an American-style dark lager
Bronze for Turbo Cougar, a bock
Bronze for Ramsey's Draft Stout, a classic Irish-style dry stout
Devil's Backbone Brewing Co. Outpost:                                                     
 Gold for Vienna Lager, which is, well, a lager
Bronze for Gold Leaf Lager, a Baltic-Style porter
Mad Fox Brewing Co.:                                                                            
 Silver for Elixer Maibock, you guessed it, a bock
Bronze for Monumental IPA, an English-style India Pale Ale
 Gold for Nikki's Gluten Free Honey Pale Ale, a gluten free beer
Bronze for Local Species, a wood- and barrel-aged beer